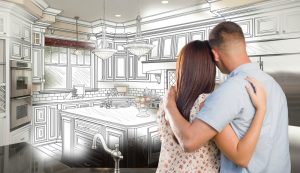 Of course, a renovation or renovation of your home requires a lot of time and money. But did you know that with some simple adjustments you can let your house shine just like you did with a renovation? With the right innovations in the right place you can give your home a completely new look and your savings will remain on your account. And sometimes you also achieve just as much with the smart repair of, for example, a crack in your bathtub or a new layer of paint over your kitchen cabinets as well as with a renovation. With some small improvements and attention to detail, your house will get that fresh crispy 'as new' look. That's why we give you 10 smart tips by remodeling contractor of Best GC Pros Greensboro NC today to give your home that freshening up or handy tricks on how to quickly carry out a repair. That way you save a lot of money! So do not miss them …
1. A new wall in natural stone optics
An open brick wall gives a warm flair with an earthy ground tone and looks beautiful. You do not have to build a whole wall for it. There are now handy thin stone strips for sale that you stick on the wall. This way you have the same effect and the investment remains low.
2. The secret trick for a decorative wall: self-adhesive wallpaper
Wallpaper is back again. With self-adhesive wallpaper you can quickly decorate your wall with a new colorful highlight in a retro look or geometric pattern. And if you do not like it anymore, replace it again for another print. Much easier than traditional wallpaper!
3. Repair a crack in your bath
And here we are with a very practical tip. A crack in your bath or other ugly details can negatively affect the whole fresh look of your bathroom. Instead of replacing your bath immediately, you can buy a special filler in the local hardware store. For a perfect smooth look, wet your finger and place some detergent and smooth the top. This will make your bathtub perfect again and as new!
4. Ornaments on your ceiling
We know them from old houses where almost all ceilings have these stucco ornaments and strips along the edges. Meanwhile, it is a big trend and we see them also appear in modern homes . The advantages? The elements are very light, you stick them in an instant and they are very cheap. Together with a nice coat of paint your ceiling is like new again! Your home gets extra class and together with some panel doors and stained glass windows it looks like a beautiful old 1930s home.
5. A new layer of paint
Sometimes your house looks a bit neglected and all too often this has to do with the walls: stains, discoloration, fading, scratches and so on. These minor defects have a big influence on your sense of living. So look at your walls a bit better and maybe a new coat of paint is all that your house needs for a fresh look. Apply the paint both horizontally and vertically and paint it at least twice. And also choose a fresh new touch.
6. Stylish metal look
This trick works well in rooms with many cabinets and appliances such as the bathroom or the kitchen. And did you know that you can also let that cool metal look of a refrigerator run on the inside? We certainly do not. So when you need to replace a device, consider a metallic look. The total space will change!
7. A lot of glass and light
Large windows but also fully glazed doors not only let a lot of light through, but also have a magical attraction. How wonderful is it to sit in front of this large window and enjoy the view? And if you do not want to replace your windows or doors immediately, you can create a comparable trompe l'oeil effect with special wall prints for a fraction of the price.
8. Provide your kitchen cupboards with a fresh new color
Maybe your kitchen is outdated and you are not ready for a new one? Then consider to paint the panels of your cupboards. In addition to paint, you can also provide the panels of the cabinets with a wood or metallic look. And so you can make beautiful combinations of, for example, white, color and wood. You can count on it that you will not recognize your kitchen again!
9. A flashy new countertop
We stay in the kitchen for a while. Are your cabinets still beautiful but is the style a bit outdated? Then remember to only replace your worktop. There are so many more variants nowadays in high-gloss finish with glass top and even concrete. Or a new plate above your counter, for example of high-gloss vinyl, also works wonders.
10. A new vinyl floor for a spacious feeling
So every toilet visit is a party! Vinyl is an ideal material and in combination with self-adhesive vinyl wallpaper you can make all sorts of creative combinations. You do not have to replace your tiles, but you can put vinyl easily and quickly. And the ideal is that you can replace it again over time.

Summary

Service Type
Provider Name
Best GC Pros
,
717-A Green Valley Road, Suite 200,
,
Greensboro
,
North Carolina
-
27408
,
Area
Description
GC Pros is a service provider in Greensboro NC that provides variously specialized contractors for all your construction needs, design-build and home renovation services.